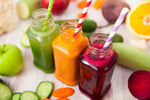 Learn more about how our shots compare with similar products in this chart.
---
Not all products are created equal. Powdered products are typically created through a lengthy dehydration process where the applied heat removes the essential volatile oils in the the natural root. With the loss of the natural oils, bioavailability is reduced- which is why you so often see it mixed with Piperidine/Black Pepper.  Compared with other frozen or juice products, our Root Rescue shots contain no added fillers and do not use traditional freezing techniques such as blast freezing. Under normal conditions of freezing, large water crystals are formed, damaging the cell membranes resulting in altered taste, texture and nutritional values. ...
---
All nutrient analysis performed and certified by Merieux Nutrisciences  (https://www.merieuxnutrisciences.com/us/en/homepage). Ginger-Turmeric Shot: Serving Size 25 mL - Density 1.03 g/mL Ginger Assay USP/NF (Current Version) Gingerols (mg/dose) 14.7 mg/dose Gingerdiols (mg/dose) 3.32 mg/dose Gingerdione (mg/dose) 0.59 mg/dose Shogaols (mg/dose) 0.98 mg/dose Total Ginger 19.6 mg/dose Total Curcuminoids USP/NF (Current Version) Curcumin (dose) 4.25 mg/dose Demethoxycurcumin (dose) 1.14 mg/dose bis-Demethoxycurcumin (dose) 0.606 mg/dose Total Curcuminoids (dose) 6.00 mg/dose Ginger-Turmeric Powder: Recommended serving size: 1 tbsp (3.4g) Ginger Assay USP/NF (Current Version) Gingerols 11.6 mg/g Gingerdiols 2.43 mg/g Gingerdione 0.19 mg/g Shogaols 1.6 mg/g Total Ginger 15.8 mg/g Total Curcuminoids USP/NF (Current...